Live event coverage using social media has become an industry standard for marketers. It is expected that brands and companies will be publishing live photo and video updates via Facebook, Twitter, Instagram and their own blog during events.
At Tytanium Ideas, we embrace live event coverage and offer it to all our clients, including adventure race Primal Quest.
At Primal Quest 2015, which is a 500+ mile, multiple discipline, adventure race through Lake Tahoe and Desolation Wilderness, "industry standard" social media event coverage flies out the window. View image on Twitter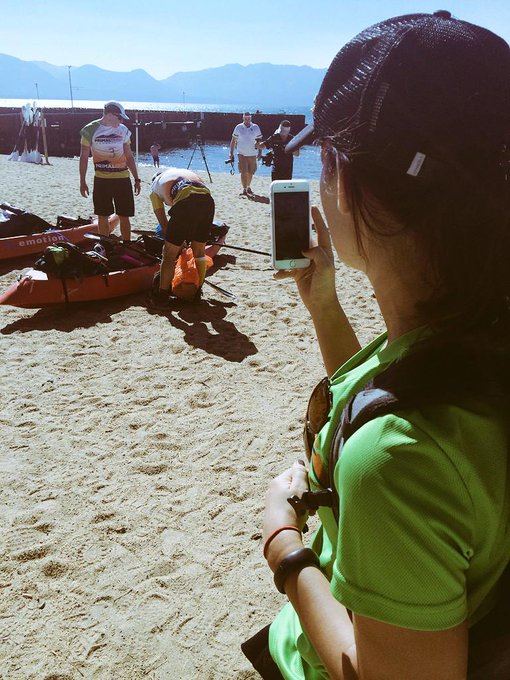 @brianglemoyer making sure all family and friends know what's going on during @ecoprimalquest using @periscopetv
For example, how many events require social media broadcasters to have an understanding of GPS coordinates to be able to correctly update the status of the racers?
Or the ability to coordinate with more than 40 volunteers and several photographers to have real-time access to media shot on-site? Dropbox and Google Drive were our best friends! And we met some really cool photographers including Kaori Funahashi and Randy Ericksen.
Or perhaps a custom Facebook app? During a brainstorming session with the race directors an idea surfaced, something that had not been done yet in this sport. How about a Facebook app that we could tie in the checkpoints and transition areas, and be able to post custom content from each location. And in true adventure racing spirit, put those on a topographic map. Yes, we can do that!
We were able to create a Facebook app that allowed all the images and content to be uploaded in a feed onto the website as well as a Facebook app that allowed users to view in real-time the images as they were being posted that were coming in from the field, and associated with each checkpoint.
This was a great solution for the race and really raised the bar for event coverage for a race like Primal Quest.
The Tytanium web and social media team has been preparing for this event since late November, although the planning did get much more frenetic as the race started! Mapping out photo ops, conducting interviews and basically non-stop communication between race volunteers and photographers.
Since the race covers such a vast area, we have to go where the action is! Sometimes we were able to walk down to the shore at Lake Tahoe, other times we had to drive out to a remote location, and we even took the Heavenly Gondola to the top of the mountain to Periscope the start of the race.
One of the most rewarding parts of this social media event coverage was the ability to inform friends and family of the status of each team to the best of our knowledge—there were some very remote areas in the race! By using each team's own social media profiles and tagging them we were able to increase our reach significantly.
No cell reception at the 9,200-foot peak of Heavenly? Ask the race director if she can have the athletes cruise past the lodge so we can broadcast using wifi.
No LTE, wifi and dwindling battery life for our devices have been the bane of our existence at Primal Quest 2015! The team has developed an uncanny ability to spot outlets at any location.
Giving out your phone number to 40 volunteers is great for getting coverage and photos from remote locations that we couldn't possibly access. Having your phone blow up the entire night with photos of teams who decided to race through the night is also great but in a different kind of way…
All in all, it's a once in a lifetime opportunity to cover an adventure race in our own backyard, and we're thrilled at the opportunity. All that hard work comes with perks, of course, one of which is getting your agency's logo next to the likes of Sierra Nevada.